Review Article
Open Access
Synthesis and applications of multifunctional composite nanomaterials
International Journal of Mechanical and Materials Engineering
2014
9:25
Received: 4 July 2014
Accepted: 27 October 2014
Published: 13 November 2014
Abstract
Nanocomposites have attracted a huge amount of interest due to their improved mechanical properties, dimensional stability, thermal/chemical stability, and electrical conductivity. Nanostructures are found to be of great significance because of their inherent properties such as large surface area to volume ratio and the engineered properties such as porosity, stability, and permeability. Composite material can achieve multifunctionality by combining the relevant, desirable features of different materials to form a new material having a broad spectrum of desired properties. These properties include liquid/gas sensing, self-repair nano/microstructure, catalysis initiator/inhibitor, as well as biomedical engineering. In this article, the nano/microcomposites are critically analyzed against the combination of functionalities i.e. mechanical, optical, chemical, electrical, and thermal properties. This review specifically presents a narrative summary on the use of multifunctional nanomaterials for energy as well as environmental applications, along with a discussion on some critical challenges existing in the fields.
Keywords
NanomaterialsBiocompositesSensorsEnergyBiomedical applications
Introduction
Nanocomposites are a new generation of novel materials, which are formed by mixing one or more dissimilar materials at the nanoscale in order to control and develop new and improved structures as well as properties (Figure
1
). The term nanocomposite encompasses a wide range of materials right from three-dimensional metal matrix composites, two-dimensional lamellar composites, and nanowires of single dimension to zero-dimensional core shells representing many variations of nanomixed and layered materials (Figure
2
). The properties of nanocomposites depend not only upon the individual components used, but also upon the morphology and the interface characteristics. Enhanced properties such as improved friction and abrasion resistance, fouling resistance, super hydrophobicity, super hydrophilicity, thermal energy transport, electronic and ionic transport, and liquid transport displayed by nanocomposites compared to individual materials make them attractive for a wide range of engineering applications.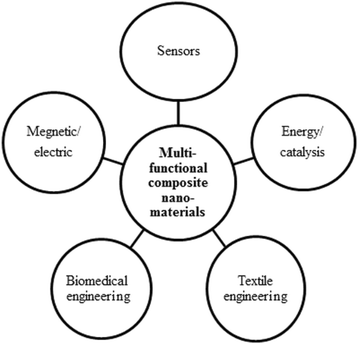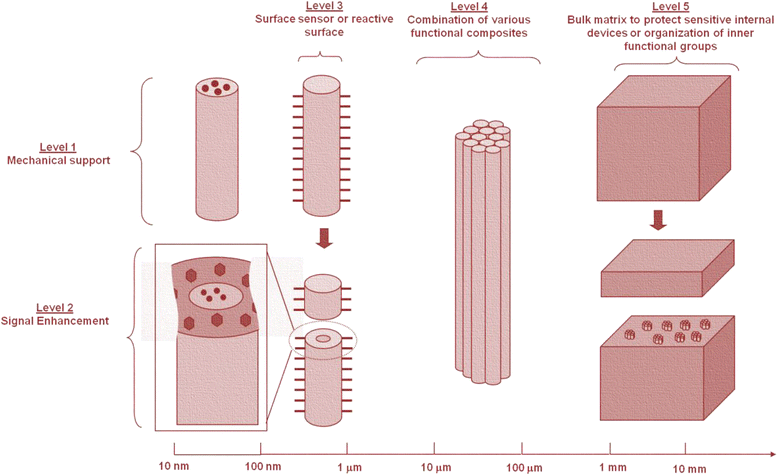 As per (Freedonia 2008), the demand for nanocomposites in 2011 reached 150,000 TPA in USA. Growth in this area will be fuelled by declining prices of nanomaterial, increase in production levels, and by resolving the technical issues concerning their mass-scale production. It is expected that nanocomposites by 2025 will be the US $9 billion market, with volumes nearing 5 million tons. The forecasted nanocomposites based on commodity plastics, such as polypropylene, polyethylene, and PVC, will dominate the market. By optimizing the fabrication process and limiting the size of the second-phase dispersion to nanometer length scales, mechanical properties of the composites such as adhesion resistance, flexural strength, toughness, and hardness can be enhanced. It is argued that packaging and motor vehicles have accounted for nearly 50% of total demand in 2011 and also estimated that it will account for 40% of demand in 2020. However, by 2025, electrical and electronics applications will gain in prominence, as nanofiber-based composites will penetrate a sizable portion of the market as a substitute for other conductive materials.
Multifunctional nanocomposites combining the merits of two or more base materials have received a great deal of attention due to their synergy or enhanced properties compared to their base counterparts (Akbulut et al.
2009
; Gobin et al.
2004
; Yang and Ko
2008
). In the realm of multifunctional nanomaterials, considerable effort has been centered on the noble metal-based systems by immobilizing noble metal onto diverse inorganic/organic supports to obtain the desired functional nanomaterials. In addition, effort has been made in loading noble metals on semiconductor metal oxides such as TiO
2
and highly conductive nanomaterial such as CNTs using any surfactant or linkers (Jose et al.
2009
, Peining et al.
2011
). It is well known that at nanoscale, the physical, chemical, and biological properties of materials differ fundamentally and often, unexpectedly, from their corresponding bulk counterpart because of the quantum confinement. For instance, gold and silver nanoparticles are characterized by their strong ability to absorb visible light at certain wavelengths, which depend on the size and shape of the nanomaterials. Solids with nanoparticle size cannot be prepared by traditional methods simply because the reactants are not mixed on the atomic scale. All the alternative methods, e.g., hydrothermal, sol–gel, Pechini, CVD, electrospinning, and microwave, described in the rest of this section address this problem by achieving atomic-scale mixing of reactants, in gas, liquid, or even solid phases. Although these are low-temperature methods, nevertheless, high-temperature processing may be required, especially for ceramic-based nanomaterials. These methods enable the final product to be homogenous nanosized materials with narrow particle size distribution. The appropriate methodologies for the preparation of these multifunctional nanomaterials are depicted in Table
1
.
Table 1
Methodologies for the preparation of multifunctional nanomaterials
Phase system

Applications mode

Inherited properties

Applications

Single-phase NF

A composite system with the relevant metal oxides NF/NP

Large surface to weight ratio

High effective energy storage at reduced material cost and improved cycling performance, and

Improved ion-transporting membranes for fuel cells, tailoring of the nanoarchitecture for thickness, density, porosity, surface area, and conductivity for the breakthrough of the technology

Combined with polymer matrix to form composite system

High strength and stiffness

High flux and low-energy filtration media for water and air

Interleave material for improved damage tolerance structural composites

Single-phase NP

A composite system with the relevant metal oxides NF/NP

Large surface area per unit volume

Stronger, corrosion/wear-resistant tunable platform for controlling surface wetting

Combined with polymer matrix to form composite system

Thermally stable

Aerospace components, housings for electronics

Two-phase NF (composite NF)

A composite system with the relevant metal oxides NF/NP

Multifunctionality

Anti-counterfeiting of drugs, thermal interfaces

Combined with polymer matrix to form composite system

Thermally and electrically stable, light weight

Smart textiles, coatings

Thermal interface materials, clothes

Two-phase NP (composite NP)

A composite system with the relevant metal oxides NF/NP

Multifunctionality

Sensors having the ability to detect lower concentrations of biologically important species/detectable analytes

The coatings having both electric/magnetic properties to effectively shield electromagnetic waves generated from an electric as well as the magnetic source, especially at low frequencies

Combined with polymer matrix to form composite system

Highly resistant

Smart textiles
Synthesis of nanocomposites
Classification of multifunctional nanomaterials
Conclusions
The unique and interesting properties of nanostructured materials due to the quantum confinement of charge carriers in small dimensions have given rise to significant desirable properties. These desirable properties include improved electrical, chemical, as well as mechanical properties as compared to their bulk counterpart. These desirable properties have resulted in a variety of applications ranging from bioengineering to catalysis as well as from sensors to renewable energy. A variety of nanomaterial from organic dendrimers, liposomes, gold, carbon, semiconductors, and silicon to metal oxide have already been fabricated and explored in many scientific fields, including chemistry, material sciences, physics, medicine, and electronics. In this article, the nanomaterial synthesis processes as well as their applications is being systematically analyzed to give a thorough analysis of the underlying phenomenon. Despite the success of these nanomaterials, their synthetic process may suffer from drawbacks such as multistep synthesis, use of toxic multifunctional agent, high fabrication cost, high-temperature synthesis, and long synthesis time. Therefore, it is still a challenge to develop a facile, green, and cost-effective method to fabricate multifunctional nanomaterials. Nevertheless, research need to be identified to fabricate these multifunctional nanomaterials with tailored functionalities by linking nanoscale structures to macroscopic functional properties to withstand the extreme operating conditions. The article characterized the relevant development made in the field of nanomaterials. Although multifunctional nanomaterial can be fabricated on the laboratory scale, work is needed to be done to fabricate these nanomaterials at high throughput for energy as well as environmental applications.
Declarations
Acknowledgement
This study was supported by the Singapore NRF-CRP grant (R-398-000-071-592), NRF-Technion (R-398-001-065-592), NUSNNI, and National University of Singapore, Singapore.
Authors' Affiliations
(1)
Center for Nanofibers & Nanotechnology, National University of Singapore, Singapore, Singapore
(2)
MAE, ASET, Amity University, Gurgaon, India
(3)
Department of Mechanical Engineering, National University of Singapore, Singapore, Singapore
(4)
Engineering Product Development, Singapore University of Technology and Design, Singapore, Singapore
Copyright
© Sahay et al.; licensee Springer. 2014
This article is published under license to BioMed Central Ltd. This is an Open Access article distributed under the terms of the Creative Commons Attribution License (http://creativecommons.org/licenses/by/4.0), which permits unrestricted use, distribution, and reproduction in any medium, provided the original work is properly credited.